Garage Door Shop - Specialty Garage Doors Morrisville, PA -

215-795-3756
Many of our Morrisville clients prefer to install garage door systems which exceed the standard capabilities and appearance of our traditional overhead doors, and for that reason, Garage Door Shop maintains a huge inventory of specialty doors for our valued clients to choose from. Our Garage Door Shop technicians have extensive knowledge about all types of specialty doors, including the servicing, repair, and installation of them. This ensures that you can maximize the value of one of our specialty doors at your residence or place of business.
Insulated Doors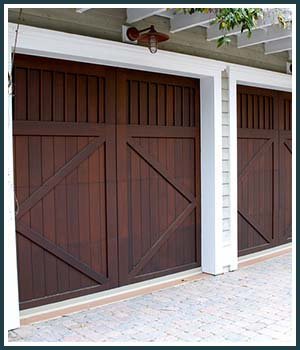 The insulated garage door is one of our most requested types specialty garage doors, because it can provide much greater protection against weather elements for the valuable assets you have stored in your garage. These insulated doors are ideal for use in warehouses which require a consistent temperature, so as to maintain optimal conditions inside.
With an insulated door, you can also make use of your garage area all year round as a workspace or an area where you might pursue your favorite hobby. Not only is this a convenience for you, but because of their superior insulating abilities, these kinds of garage doors can actually lower your energy bills by retaining conditioned air inside and preventing the intrusion of external air. We have many different types of insulated garage doors at Garage Door Shop, all of which can be customized to meet your specific needs.
Fire Doors
We've often been asked whether or not fire doors are a worthwhile addition to garage areas, and our response to that has always been in the affirmative. The reason for this is that in most homes, garages are one of the prime areas where a sudden fire can spring up, because chemicals like paints, paint thinner, cleaning solutions, and even gasoline are commonly stored in garages, which makes the fuel for a fire readily available.
With just a single spark and a leaky container, a raging inferno could develop inside your garage, and sometimes even concentrated sunshine can trigger an out-of-control fire. Even worse, since many garages have a direct connection to the main living area, any fire could quickly spread to your home, causing severe damage, and can even threaten the lives of occupants.
Fire door ratings are expressed in terms of their ability to resist small flames, and to slow the spread of larger flames. A fireproof door might completely stop a small fire from spreading, and if a larger fire were in progress, it might slow the advance of that fire to provide valuable escape time for occupants of your home.
A great many municipal buildings and other governmental agency buildings have specifically required that fire doors be installed, so that a grace period of reaction time is made available to occupants of either residential or commercial buildings. With that kind of protection available to your family and your place of business, it makes great sense to have a specialty garage door installed for your own peace of mind.
Traffic Doors (High Speed Doors)
Another very popular kind of specialty door we offer to our clients is the high-speed door, used in situations where heavy traffic is anticipated. These kinds of doors are designed to be raised and lowered very quickly for the convenience of owners. Among our line of high-speed traffic doors, we offer both economical models which deliver value at an affordable price, and our premium models, which can deliver high-performance as well as lowest noise levels.