Garage Door Shop - Garage Door Openers Morrisville, PA -

215-795-3756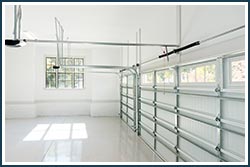 Recognizing that the garage door is probably the most common entry point used for your home or business, we provide our customers with the widest possible selection of motion detector garage door openers. We have a model to suit the taste of all customers, from the economical standard models to those with greatly enhanced functionality that provide high-speed performance and virtually noiseless operation.
When you call Garage Door Shop about your garage door opener, we'll provide a free quote that details the cost of all labor and parts, so you have a clear idea of your investment. On installation day, one of our specialists will remove the existing garage door opener if necessary, and use all the specialized tools and equipment from our mobile service unit to properly install your new garage door opener.
After installation, our technician will detail for you the features of your new garage door opener, and make sure that you approve all work done on the installation, so that you are completely satisfied and can have the kind of peace of mind that comes from knowing your assets are secure and safe.
Garage Door Shop offers everything from high-quality components to expert design to highly professional service, and that's why we are your number one source for all garage door system issues in Morrisville, PA. Call us today for a free consultation.